Jade's Story
You can make a career out of uplifting others and being uplifted.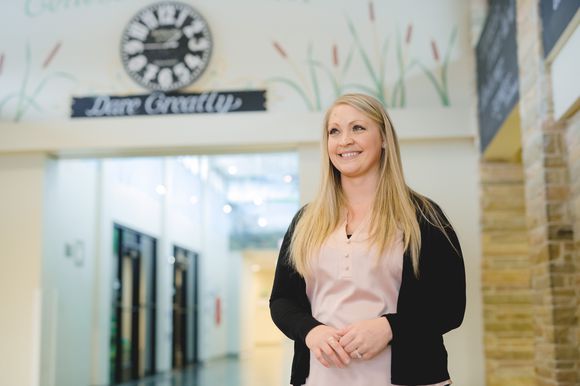 "My coworkers are incredibly supportive. In this specialized setting, we get to know each other and support each other on a different level than in other jobs."
Jade has a unique perspective when it comes to teaching people with challenging special needs. She grew up with a brother who has autism. As she grew up and went on to college at UW Oshkosh, she knew she wanted to spend her career in special education, advocating for and teaching people who need it most.
When Jade graduated, she had 11 interviews, including one at Genesee Lake School (GLS), one of MyPath's nine companies. She was offered teaching positions from five different school districts and chose MyPath. "The position at Genesee Lake School really spoke to me," says Jade. "It was exactly what I wanted to do — help students with greater behavioral challenges and who might not do well in a traditional school setting.
Jade loved everything about her position at GLS. She enjoyed the students and really appreciated that the class sizes were smaller in order to focus on each student intense needs She was able to come in during the summer of 2011 and get to know some of her students before the school year started. "I really felt supported and the staff was so competent," she says. "I appreciate the level of resources we have here for students with special needs."
"I really felt supported and the staff was so competent. I appreciate the level of resources we have here for students with special needs."
Jade was extremely motivated to keep learning and growing. Despite being comfortable in her position at GLS working with elementary students, her real passion was to work in a middle school room. "When a middle school classroom was created, I expressed my passion to the leadership team, and they were wonderful," says Jade. "They immediately worked on moving me into that position and turned my classroom into more of what I was looking to grow into."
After five years at GLS, Jade caught wind of a managerial position opening up at The Richardson School (TRS), a MyPath Company and one of MyPath's 150 locations. "A colleague at GLS convinced me to apply for the job and helped me revise my resume," she says.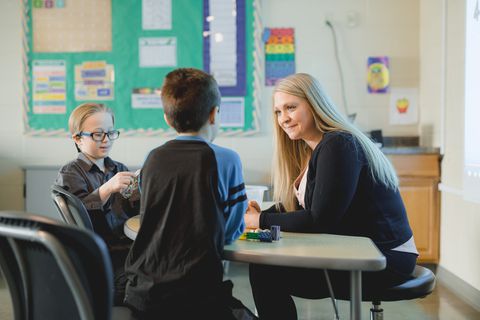 2 facilities
Out of 150 locations within MyPath.
The new position at TRS was in a facility that hadn't yet opened in Madison, Wis. "I found the idea of starting a facility really exciting, especially knowing there weren't any other places like it in the county at the time," says Jade. "I really hoped that my knowledge and experience as a teacher in this environment would help support other teachers and the growth of the company."
Jade's commitment to push herself out of her comfort zone paid off. Today, she is the Education Curriculum Coordinator for TRS's Madison location. She believes everyone who has a passion for helping people with the most challenging special needs can have the career they're looking for at MyPath.
"The opportunity for growth within MyPath is amazing," says Jade. "I've seen people take different career paths here. And with new locations opening and different roles within each, there is just an endless amount of opportunity."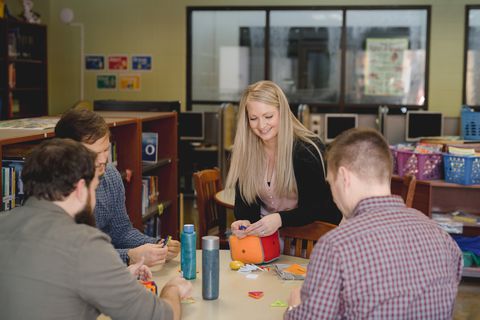 Find your perfect fit
We know how important it is to find a workplace that fits you — from coworkers that you connect with to doing work that fills your heart and soul. It's why we encourage people to explore their options. We have 10 MyPath companies and 150 locations that allow you to find the place that perfectly fits you.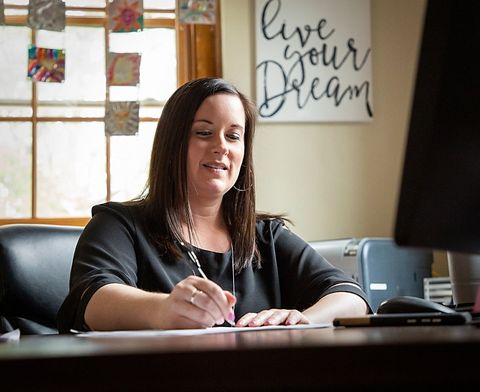 Working at a MyPath Company
Our employees are why MyPath companies work so well for the people we serve. They're the reason we're 100% employee-owned and have nine MyPath companies and 150 locations throughout Wisconsin and Indiana. To help take care of the future of our people, employees who are with us for a year, with over 1000 hours of work, begin to receive company-funded MyPath stock shares. After that first year, continued employment with us means continued growth in the number of company shares you receive.
This culture of ownership goes beyond stock. As an employee owner, you can expect transparency, respect and appreciation. If you are called to help others and be part of something bigger, MyPath can help you explore opportunities throughout its many organizations.