MyPath News
Here is where you will find all of the happenings for MyPath and our companies. Click below for more information.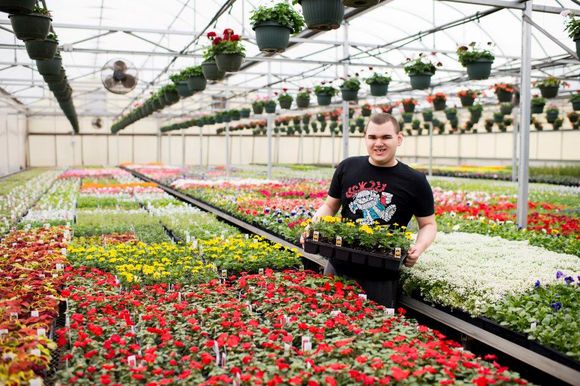 Homes for Independent Living Receives Two Grants from the Wisconsin Department of Health Services (DHS) Under the American Rescue Plan Act (ARPA)
T.C. Harris School & Academy Receives Interim Accreditation from the Council on Accreditation
MyPath celebrates and congratulates Hannah Carbaugh as Teacher of the Year at T.C. Harris School & Academy
Derek Goodman has been named a BizTimes Notable BIPOC Executive
MyPath One of Sixty-nine Applicants Selected to Receive Grant from Wisconsin DHS
MyPath, a provider of Home and Community-Based Services for individuals with disabilities and other significant needs, is pleased to announce it has been selected to receive a second grant award from the Wisconsin Department of Health Services (DHS) through the American Rescue Plan Act (ARPA).
MyPath is a recipient of The Wisconsin Department of Health Services(DHS) grant
The Wisconsin Department of Health Services (DHS) has awarded $12 million to 43 organizations who applied for the Medicaid Home and Community-Based Services (HCBS) grant opportunity. More than 700 organizations across all 72 counties applied, requesting more than $200 million.
We are pleased to share that MyPath is one of the recipients of the first round of DHS grants for Home and Community-Based Services. Our request to support the launch of international recruiting efforts was granted in full. We are listed under Homes for Independent Living LLC in Waukesha County.
Best DEIB Initiatives for 2022
MyPath has been selected by Mogul as one of the Top 100 Companies with the Best DEIB (Diversity, Equity, Inclusion, and Belonging) Initiatives for 2022
T.C. Harris School and Academy, A MyPath Company Earns Cognia Accreditation
John Soderberg has been named a BizTimes Notable LGBTQ Executive
MyPath has named Vincent Lyles to its Board of Directors.
Vincent is currently System Vice President, Community Relations, with Advocate Aurora Health. He previously served as the President and CEO of Boys & Girls Clubs of Greater Milwaukee, the largest youth-serving organization in the city, where he led a team of more than 600 employees and volunteers focused on the single mission of serving youth in the Greater Milwaukee Area.
Please join us in celebrating Lynn Matzke's 30 year anniversary with Homes for Independent Living (HIL)! Lynn is our Executive Director and holds the third longest tenure of over 900 HIL company owners.
MyPath is recognized by Mogul as one of the top 100 companies nationwide with the Best D&I Initiatives in 2021.
Genesee Lake School is named a National Association of Special Education Teachers (NASET) School of Excellence.
Selection as a NASET School of Excellence is the highest honor a private special education school can achieve through our professional association.  The recognition is bestowed on private special education schools that meet rigorous professional criteria and have demonstrated truly exceptional dedication, commitment and achievement in the field of special education.
MyPath receives an award at the Employee Owned Conference and Trade Show in Las Vegas.
The MyPath ESOP Education Series earned the "Runner-Up" designation in the Best Video Category for large companies. The MyPath series uses animation, music and simple illustrations to explain employee ownership to its "Owners Who Care." Those who complete the series receive the designation Certified Employee Owner, or C.E.O.
Dave Nagy, MyPath's former Director of Asset Management who led the preparation of the submission, said, "Runner up is not a bad place to be when it comes to the AACE Awards! The competition is at a high level. The judges take their task very seriously. MyPath should be proud of the outcome and even prouder of the fact that the video series exists as a tremendous ESOP teaching tool."
The Wisconsin BCBA professional oversight group declares Genesee Community Services, a MyPath Company, an Authorized Continuing Education provider to train on ABA services.
MyPath Board Member Dorothy Buchanan Wilson named to BizTimes Notable Women on Corporate Boards
Dorothy Buckhanan Wilson, president of D Innovare Consulting, serves on the board of directors of MyPath, a provider of specialized education, therapeutic and community support services for high-need individuals. Dorothy is an accomplished executive who is known nationally as a skilled leader, speaker, and trainer, according to Terry Leahy, MyPath's president and CEO.
"MyPath has benefited tremendously from Dorothy's industry know-how and business acumen. Since joining the board of MyPath, she has played a critical role in assisting the company accelerate its efforts to promote diversity, equity and inclusion," Leahy said.
MyPath Names Tenecia Waddell-Pyle Director of Diversity, Equity & Inclusion
MyPath has named Tenecia Waddell-Pyle as the organization's first Director of Diversity, Equity & Inclusion (DEI). The Director of Diversity, Equity & Inclusion role was born after MyPath's establishment of the employee resource groups, Race and Ethnicity Pathfinders and LGBTQ+ Pathfinders, which blazed a trail towards greater DEI awareness and education throughout MyPath companies. The passion from these groups led to MyPath CEO Terry Leahy dedicating a corporate position to champion DEI.
MyPath is named the 2021 Wisconsin ESOP of the Year
The ESOP Company of the Year Award goes to an organization that demonstrates a commitment to employee ownership, as exhibited by involvement with The ESOP Association (TEA) and its programs, open communication with employees, and promotion of TEA's vision.
"We were thrilled and honored to hear that we received the ESOP Company of the Year Award from the Wisconsin Chapter," said Terry Leahy, MyPath CEO. "Since converting to 100% employee ownership in 2016, we have tried to develop creative ways to highlight the benefits of employee ownership for our 'Co-Owners Who Care.'"
BizTimes Recognizes MyPath Finance Director, Jerry Wolf, as one of 12 Rising Stars in Finance and Accounting.
BizTimes Milwaukee presents its inaugural showcase of Rising Stars in Finance and Accounting showcasing young, talented professionals in southeastern Wisconsin who are up-and-comers serving in finance and accounting roles for their business or organization.
BizTimes Last Word with MyPath CEO Terry Leahy
Our CEO was featured in the Last Word section of Milwaukee BizTimes.