Jess's Story
MyPath is a place that feels just like home.
Fulfillment comes when you can serve others and your employer serves you.
Right out of grad school for behavior analysis, Jess found a job working as a behavioral therapist for a small private practice catering to children with autism. It was a clinical setting and she really enjoyed it. But something was missing. Her passion was working with less advantaged people. The ones who had a harder go at life. That's when she found T.C. Harris School (TCH), one of nine MyPath Companies that cares for children and adults with the most challenging special needs.
TCH is a therapeutic school offering day services, group home living, and residential care to students with special education needs and behavioral challenges. Students at TCH have a wide range of intellectual/developmental disabilities and emotional disturbances, which requires passionate, caring team members to serve them.
After interviewing at multiple places, Jess was offered two different positions with two different companies. Both had very similar job descriptions. Her interview at TCH is what solidified her choice. "The interview process, the people I met and the experiences I had seemed more authentic at TCH," says Jess. "They were up front and transparent, and I could tell they really believed in a brighter future for TCH."
"I can't see myself leaving here — there's such a wide scope of possibilities within MyPath."
The authentic feeling Jess was drawn to held up long after she chose to work as the Training and Development Coordinator at T.C. Harris School (TCH). "Everyone, from our direct care staff all the way up to our CEO, has a genuine attitude and really values our beliefs and behaviors of openness and accountability," she says.
After two years, Jess started to probe about how she could advance her career. She looked into other human service companies but didn't find anything that compared to MyPath. "This company is very authentic about the way they care for the people they serve," she says. "And they're also that way with how they care for their employees."
That's when she started looking internally at MyPath. Because there are nine MyPath companies and 150 locations throughout Indiana and Wisconsin, Jess easily found a position that matched everything she was looking for within the company she loved.
Jess moved from Lafayette, Ind. to Milwaukee, Wis., where she joined Prader-Willi Homes (PWH) as the Behavioral Services Coordinator. The new role allowed her to oversee supplemental clinical support and behavioral interventions for PWH's thirteen programs, combine teaching of fellow employees with clinical data analysis, and guide changes to the organization's therapeutic approaches so they could give the best care to the people they serve.
"The same things that I loved at TCH, I found at PWH," says Jess. "My executive director told me I was hired as an expert and that she trusted me to handle whatever I needed in order to serve people better."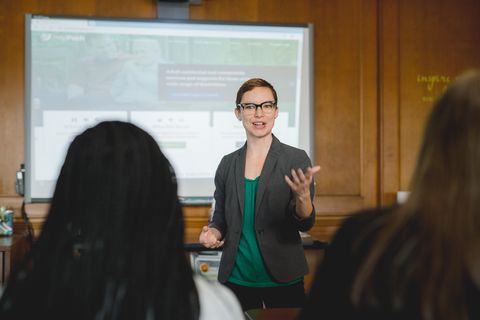 2 positions
and countless growth opportunity at MyPath.
MyPath places a lot of emphasis on ownership. Jess' team gave her the autonomy to implement strategies and create global goals and plan how to get there. At the same time, they are there to uplift her and her work when she needs it. "The resources here are fantastic," she says. "I feel very supported in my role."
In addition to having a voice in the company, ownership at MyPath means every eligible employee is a co-owner after one year of employment. By his or her second MyPath anniversary, an eligible employee receives an ESOP statement detailing the allocation of company stock which has been invested for retirement. This stock allocation is a company-funded benefit, meaning no investment from employees is required. Allocations occur every year on behalf of eligible employees, throughout their MyPath career.
"We value passionate people. People who are team players and those who are open and ready to implement new treatment techniques and innovation," says Jess. "We really do make a difference in the lives of people who need a difference made — we really do transform lives."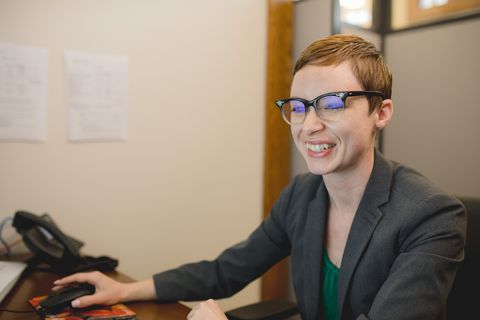 Find your perfect fit
We know how important it is to find a workplace that fits you — from coworkers that you connect with to doing work that fills your heart and soul. It's why we encourage people to explore their options. We have 10 MyPath companies and 150 locations that allow you to find the place that perfectly fits you.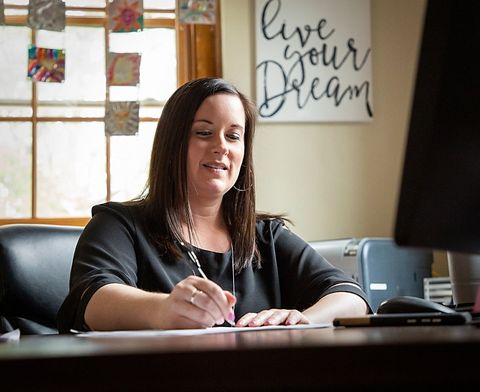 Working at a MyPath Company
Our employees are why MyPath companies work so well for the people we serve. They're the reason we're 100% employee-owned and have nine MyPath companies and 150 locations throughout Wisconsin and Indiana. To help take care of the future of our people, employees who are with us for a year, with over 1000 hours of work, begin to receive company-funded MyPath stock shares. After that first year, continued employment with us means continued growth in the number of company shares you receive.
This culture of ownership goes beyond stock. As an employee owner, you can expect transparency, respect and appreciation. If you are called to help others and be part of something bigger, MyPath can help you explore opportunities throughout its many organizations.